C'est la volonté de Be C'Cool de fabriquer des mobiliers neufs et garantis constitués en majorité de matériaux de réemploi. 
La constitution d'une base de données des gisements de matériaux de réemploi associée aux compétences de conception permettent à Be C'Cool d'affirmer aujourd'hui sa position d'acteur moteur dans l'éco-conception. Ces matériaux sont issus de déchets industriels ou de produits arrivés en fin de leur cycle de vie. La fabrication est intégralement réalisée en Pays de la Loire et les matériaux de réemploi sont issus de l'industrie française.
Qu'est ce que le réemploi ?
Des usines industrielles, nos partenaires, reçoivent des matières premières, qu'ils travaillent pour fabriquer leurs produits. En sortie d'usine, ils sortent, leurs produits bien sûr, mais également des chutes et des déchets de matières.
Nous récupérons ces déchets afin de les retravailler pour fabriquer nos mobiliers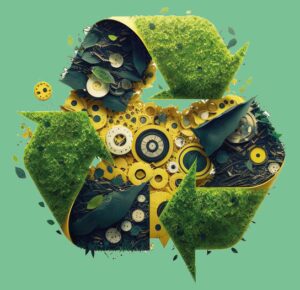 Pour mieux comprendre notre démarche, découvrez notre vidéo explicative.